WHY IT MATTERS
Industrial agriculture – particularly when it comes to commodity production for global markets- is the biggest driver of deforestation in tropical countries. Unsustainable oil palm plantations and uncurbed illegal logging have depleted the tropical forests of Borneo and Sumatra in Indonesia, while the Amazon continues to suffer from the irresponsible actions of the cattle and soy industries. Not only does this result in climate change impacts, biodiversity loss, soil nutrition depletion, erosion and other adverse environmental effects, but it also results in egregious social illegality issues such as labor violations, health and safety risks, corruption and the abuse of resource and tenure rights.
From a commercial standpoint, these infringements can in turn spark a vicious cycle of increased volatility for businesses. For instance, land that has been illegally converted to agriculture can be seized by the authorities, disrupting supply chains. Prioritizing transparent, ethical and deforestation and illegality-free supply chains must be a priority for all businesses- both upstream and downstream. Business must be part of the solution in driving positive change to achieve the UN Sustainable Development Goals and the Paris Climate Agreement.
Resilient Landscapes helps companies, communities, governments and donors balance economic objectives with environmental and social goals. We build inclusive value chains based on sustainable production and sound business practices that help farmers and agribusinesses in developing countries prosper and thrive. More responsible supply chains, nature-positive production systems and better risk management will benefit both our planet and people. In fact, when managed sustainably, the traditional culprits of large-scale deforestation – soy, beef, and palm oil – can all be transformed into economic engines for rural development and poverty alleviation.
Resilient Landscapes serves as the nexus where different stakeholders along the commodity supply chain—smallholder farmers, commercial producers, SMEs, processors and distributors—come together for a mutually beneficial partnership. Using our unparalleled expertise and knowledge of biophysical and social sciences, we provide evidence-based solutions to enhance transparency and traceability in agricultural commodity supply chains in order to balance the needs of a growing global population with social and environmental responsibilities.
The single largest cause of deforestation and forest degradation globally is commercial agriculture.
Soy
Palm oil
Pulp & Paper
Cocoa
Shea
Rubber
Biomass
Biofuels
Fuelwood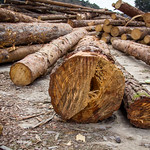 Timber
Charcoal
Beef
Cotton
Dairy
Sugarcane
Trusted By